C4 Tidal Fortnight Cruise
Discovering the Solent, between tides and currents
In order to familiarise you with ocean navigation, its currents and tides, the CVC has decided to take you to one of the most iconic places in European seamanship: the Solent Channel in the United Kingdom. Piloting and manoeuvring at sea, sailing up estuaries, entering ports and marinas, following the rhythm of the tides and currents are just some of the ingredients of this essential course. The course, which will have a very exercise-based approach, will cover all the most fundamental topics for safe navigation in such a stretch of sea. From the study of the Atlas of Tidal Currents and Meteorology to the more practical aspects of piloting, how to prepare and execute passage planning (appraising, planning, executing and monitoring) for entering and leaving ports or in difficult and narrow waters, charting and knowledge of on-board electronics. A full immersion for advanced sailors in an arm of the sea that is a symbol of seafaring art.
The location
The Solent is an arm of sea in the English Channel that separates the Isle of Wight from Britain; a very important crossing point for both commercial and pleasure sailing. Water sports such as sailing are popular, with the annual Cowes Week event. The area is of great ecological and landscape importance due to the estuarine coastal habitats along its shores. Much of the coastline has been declared a Special Area of Conservation. The Solent borders and forms part of the characteristic typical features of some landscapes such as the New Forest National Park.
The boats
The boats used will be newly built 37/39 footers with cruising chutes.
Where and when
Embarkation: Monday h 10.00 Port of embarkation: Port Hamble Marina (UK) - Hamble SO31 4QD (c/o Fairview Sailing tel. 02380 457 023), Disembarkation: Sunday h 17.00 at Port Hamble Marina
How to get there:
Flight - Easy Jet to London Gatwick; train station at the airport. Train: - about 2 hours to Southampton Central, then taxi to Hamble (£16 - £20)
https://www.nationalrail.co.uk
NB the nearest railway station is Hamble, connected to Southampton Central: it's small and there are no taxis; a nice walk from there. Taxi - from LGW to Hamble costs about £135 (4 people). Viking Cars have an office in Hamble Point Marina.
https://www.vikingcars.co.uk
By car - free parking; enter SO31 4QD in sat-nav
What is not included in the fee
: Diesel, port and galley.
End-of-course certificates
At the end of the course the successful students will be awarded a diploma certifying the type of skills they have achieved.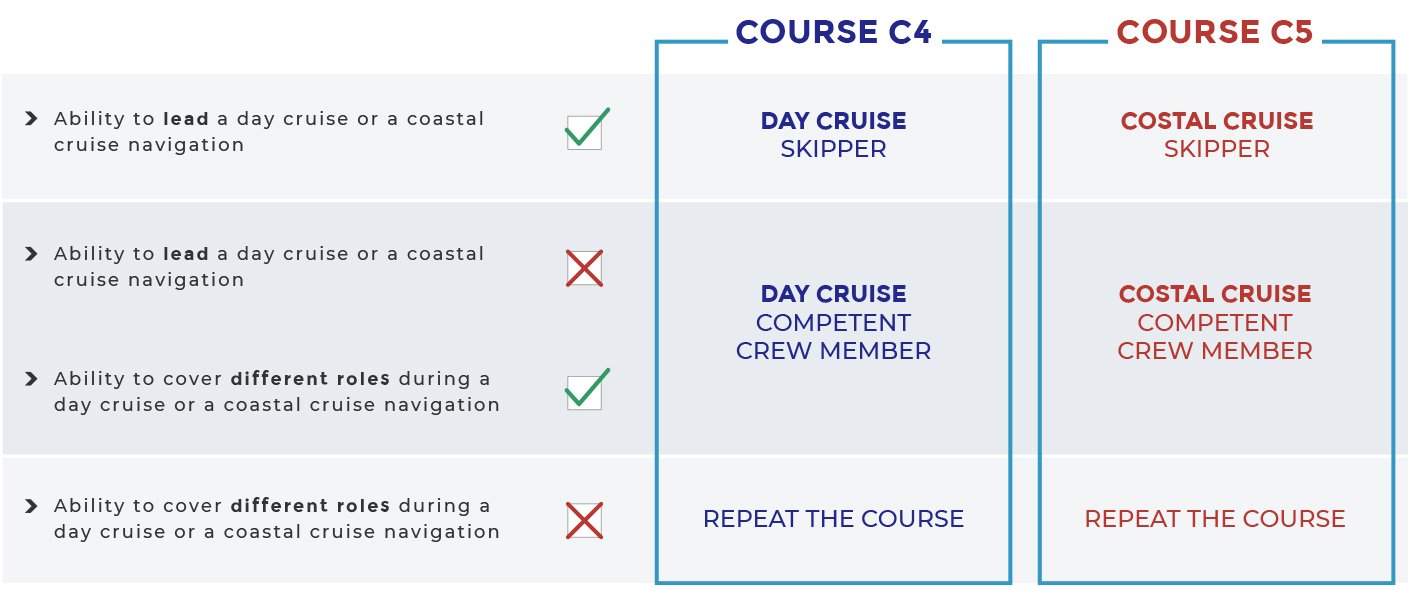 Below you will find useful information for attending our courses. If you have any questions, please call us on +39.02.86452191.